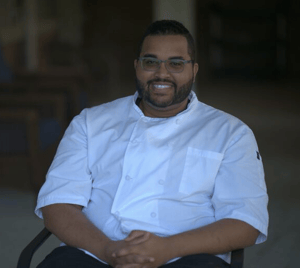 Since its opening this Spring, Collington's newest dining venue, The Landing, has quickly become a popular place for bites to eat, along with a side of community. Styled as a bistro-type café, this casual dining option offers made-to-order offerings – from flatbreads, to speciality salads, to pizzas hot out of the oven. But no visit to The Landing is complete without one of its decadent desserts. This recipe for Coconut Custard is one of Collington's signatures, and comes from our Director of Dining, Christian Ramsey. Bon appetite, and be sure to save room for dessert!
Ingredients-
3 egg yolks
1/4 cup white sugar
1 teaspoon vanilla extract
½ teaspoon of coconut extract
1 cup heavy cream
1 tablespoon brown sugar
2 tablespoons white sugar
1 tablespoon of toasted coconut
1 strawberry, washed
Directions-
Preheat oven to 300 degrees F (150 degrees C). Move a rack to the bottom of the oven
Whisk the egg yolks, sugar, and vanilla together in a stainless steel bowl until smooth. Bring the cream just to a simmer in a saucepan over medium-low heat; pour into the egg yolk mixture, whisking continually until combined
Bring a couple of inches of water to a simmer in an oven-safe saucepan over medium low heat; set the bowl with the cream mixture over the saucepan to form a double boiler
Place the entire double boiler into the preheated oven; bake until the mixture sets, about 30 minutes
Chill in refrigerator for 2 hours
Preheat the oven's broiler and set the oven rack about 6 inches from the heat source
Combine the brown sugar with 2 tablespoons of white sugar in a bowl; sprinkle evenly over the cold creme
Heat under the preheated broiler until the sugar melts and browns, 2 to 3 minutes; return immediately to the refrigerator and chill until the sugar is set, about 15 minutes
Garnish with toasted coconut flakes and half strawberry
Submit Your Recipe to Collingtonsocial@gmail.com to be showcased in our "My Favorite Recipes" feature in our monthly newsletter.
Click Here To Read Lindsey Hamilton's recipe for Maryland Cream of Crab