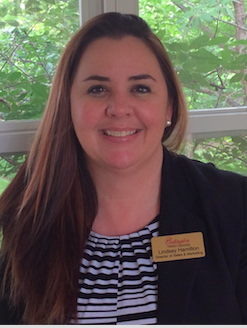 "I wanted to share some of my family's favorites with all of you for the next few months. I would also invite you to submit your favorite fall and upcoming holiday recipes now for the September, October, November, and December Recipe of the month. I look forward to hearing from you all and trying them out with my family at home. This one is my go to for larger family gatherings. It's excellent! My niece specifically asks me to bring this to every family function no matter the season! Enjoy!"
- Lindsey Hamilton, Director of Sales and Marketing
Mexican Lasagna
3 tablespoons of olive oil

2 lbs lean ground beef

4 teaspoons of chili powder

4 teaspoons of cumin

2 teaspoons of garlic

2 teaspoons of onion powder

½ white onion, chopped

1 15 ounce can of black beans drained

1 medium bottle of taco sauce (I use the spicy one)

1 can of fire roasted diced tomatoes

1 cup of corn kernels

8 8-inch flour tortillas quartered

4 cups of shredded cheddar cheese or Mexican blended cheese

2 scallions

Sour Cream
Instructions:
1. Preheat the oven to 425 degrees.
2. In a large skillet over medium heat combine the olive oil with the ground beef, onion, and spices.
3. Add taco sauce, tomatoes, black beans, and corn. Fold all ingredients together
4. Add salt and pepper to taste.
5. Coat a shallow baking dish with the remaining olive oil. Quarter the tortillas to make them easier to layer in the 13 X 9 pan. Build the lasagna in layers of meat and beans mixture, then the tortillas, then cheese. Repeat again. Bake 15 minutes until cheese is brown and bubbly. Top with scallions and sour cream.
Submit Your Recipe To: Collingtonsocial@gmail.com
For Lindsey's Recipe for Maryland Cream of Crab: Click Here