Looking for a fun day trip but don't feel like sitting in the car for 5 hours? Check out these nearby destinations that are perfect for a road trip with friends, family, and fellow residents.
Baltimore, MD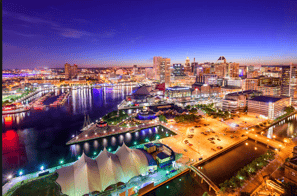 Baltimore often times gets overlooked due to its proximity to Washington D.C., but the city is a perfect spot for your summer road trip. It's only about an hour drive and has tons of restaurants, entertainment, and museums. You can bring the grandkids along and take them to the National Aquarium, go for a stroll along the inner harbor, catch an Oriole's game, or visit one of the many restaurants!
Annapolis, MD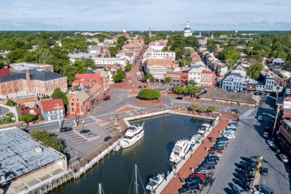 Annapolis is a gorgeous waterfront town located only 45 minutes from Washington D.C. The city offers trolley tours that provide visuals of the prettiest buildings and top attractions Annapolis has to offer, not to mention it saves you from hours of walking. Additionally, there are plenty of wine tours, boat tours and of course the Naval Academy tour.
St. Michaels, MD
Just across the Chesapeake Bay is St. Michaels, known for its boating and blue crabs. Enjoy a stroll along the waterfront, cruise the bay in a yacht, and take in the beauty of a sunset over the water.
Bethany Beach, DE
Bethany Beach is located about 2 and a half hours from the D.C. area, but is well worth the trip. It is a quiet beach that is perfect for families or anyone looking for a relaxing getaway. It is known for its gorgeous sunsets and scenery, golf, farmers market and vineyards.
Charlottesville, VA
A day in Charlottesville is sure to keep you busy, from visiting Monticello, where Thomas Jefferson called home, to the Fralin Museum of Art, to the historic downtown mall filled with shops and restaurants, it is sure to make the 2 hour drive worthwhile.
Antietam National Battlefield, MD
For the history buffs, a trip to the Antietam National Battlefield will be right up your alley. The Battlefield is a National Park Service protected area that was the site of a bloody battle during the American Civil war in 1862. There you can find a number of museum exhibits, and daily interpretive talks.
Goddard Space Flight Center, MD
Though it's less than a half hour from Washington D.C., the Goddard Space Flight Center is a trip people of any age will enjoy. This center was established in 1959 as NASA's first space flight center and offers a variety of events throughout the year including model rocket.
Click Here for the Best Travel Destinations for Seniors