In recent years the emergence of ride sharing services has made traveling without a car a breeze.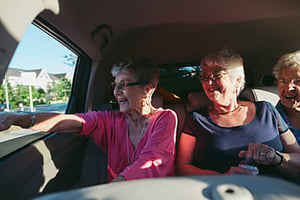 For older adults who can no longer drive, services like Uber and Lyft are helpful in maintaining independence, getting you to and from appointments, or wherever you need to go. If you are unfamiliar with the world of ride sharing here are a few of the top services we recommend.
Uber/Lyft These two are nearly interchangeable. Both services require that you download their app to request a ride, so you will need a smartphone in order to use Uber or Lyft. Once you have the app, you plug in your destination, request a car (Uber offers wheelchair accessible cars upon request) and you will receive your wait time, drivers name and type of car to look out for. Each app gives you the option to pay with a credit or debit card, PayPal or Apple Pay.
Go Go Grandparent This service was made for older adults who may not have a smart phone or be comfortable using an app to hail a ride. This alternative ride sharing service provides a phone number that you dial to request a ride. Additionally, you can schedule rides in advance if you know you have an appointment coming up or need to be somewhere on a certain date. The service also sends you or your designated family member texts to notify them when the car will arrive, once you have been picked up and once you have been dropped off to ensure your safe arrival and provide peace of mind.
Another great option is GreatCall driven by Lyft. This option is for anyone who owns a Jitterbug cell phone. In order to get a ride, all you need to do is dial 0 and you will automatically be connected with a live personal operator who will book you a ride and provide an estimate wait time for your car to arrive. Paying for this service is convenient, the cost of the ride will be added to your GreatCall bill so no need to worry about paying upfront. GreatCall driven by Lyft provides an easy and hassle-free ride sharing experience.
If you still feel uncomfortable with any of the options laid out, ask for help! Have a child, grandchild or friend call you a ride, take advantage of the opportunity to maintain your independence and get out on the road! With the remarkable success of ride sharing services, there are bound to be more that spring up, and additionally more that are better geared towards older adults.
Happy Travels!
For Quick and Easy Sun Safety Tips: Click Here