There is a large divide in the use of technology in America between seniors and younger generations. That gap, however, has been slowly diminishing over the years. According to Pew Research Center, 4 in 10 American seniors over the age of 65 owned smartphones as of 2016. This statistic has more than doubled since 2013, showing an increase in the use of technology among seniors. Statistics from this same Pew survey later state that 34% of Americans 65 and over admit to using at least one type of social media platform. Take a look at why technologies like the Internet and social media are beneficial for seniors.
1. Technology Keeps You Connected
Living at Collington's Continuing Care Retirement Community in Bowie, Maryland might separate residents from some of their family and close friends. Luckily for them, social media allows residents to connect with loved ones with the touch of a button or the tap of a screen. Facebook, Instagram, Skype and WhatsApp are just a few apps to stay in touch with family abroad or at home.
2. The Internet May Have Cognitive Benefits for Seniors
It is never too late to learn something new. The Bowie Senior Center offers computer classes for seniors, along with over 70 other different classes. Keep the mind sharp and schedule a class
today to keep up with this growing age of technology. Start by learning these tips for how to simplify Instagram for seniors.

3. Social Media Reduces Isolation and Loneliness
Although Collington, A Kendal Affiliate has countless amenities and activities, sometimes residents may feel disconnected with their neighbors and friends. Social media and the Internet give people access to the world around them. Using technology can help reduce isolation and loneliness since a connection is right at people's fingertips.
4. The Internet Is a Convenient Source of Information
Traditional methods of acquiring news and information like newspapers and magazines are losing their popularity since the digital news outlets have emerged. WTOP, The Washington DC Patch, and The Washington Post are just a few of the online news publications in the Washington DC area that make it easy to access local and global news and information.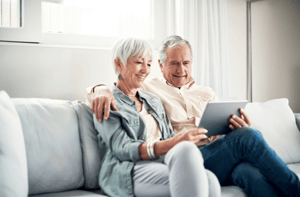 5. There Are Endless Amounts of Online Entertainment
Cable television is losing its popularity as Netflix and Hulu continue to grow rapidly. The Internet gives people unlimited access to any type of online entertainment, whether it be movies, television, games, gambling, or news.
To Read Tips on How to Simplify Social Media for Seniors. Click Here