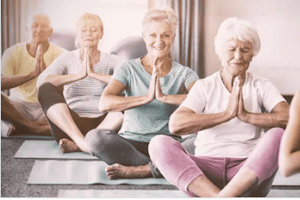 Practicing yoga has numerous health benefits, as most of us know. It can improve cardio and circulatory health, improve energy and flexibility, help balance your metabolism, calm anxiety and even help protect you from injury. Practicing yoga at any age is always a great idea whether you're 15 or 95, however, according to Yoga International, the focus for your practice varies based on which quarter of life you are currently in.
The first 25 years of our lives are meant for study, the second 25 are time for family and worldly achievements, the third are spent moving inward, and the fourth are spent being teachers. Based on that philosophy, yoga for those of us over the age of 50 is not meant to slow us down, but rather focus on moving inward and providing a more appropriate practice based on where we are in life.
It's never too late to begin practicing yoga, even for those that may not be as mobile.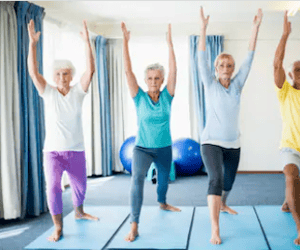 Yoga can lessen chronic pain and help conditions such as osteoporosis or joint pain. However, it is important to research what type of yoga will be best for you, certain studios offer yoga therapists who will be better suited to work with yogis who have more severe back, knee or hip problems. The best advice is to keep your movements gentle and slow, don't try to do too much too soon especially if you have not been active in a while. Yoga is about the mind just as much as it is about the body so although you may start off in a slow-paced class, it will still help your breathing, energy and meditation practice.
Finding an area of yoga that is most comfortable for you is important, you don't want it to feel like a chore, but rather a part of your day that you can look forward to and be consistent in practicing. Those who practice yoga live longer, so it is worth the effort no matter what stage of life you are in.
To Read About How 10 Minutes of Exercise A Day Can Help Combat Your Arthritis: Click Here