Picking my favorite winter recipe was a hard one for me so I had to reach out to my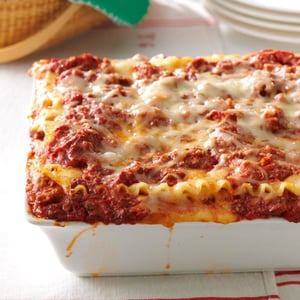 family and ask each of them what their favorite meal was that I make for them and Lasagna won hands down. First, when I cook Lasagna it's always has to be an extra large dish. Two reasons - one it's my man's favorite meal and two - the girls and I love to pack lunch for the next day so there better be plenty of left overs. The dish I use is becomes so heavy the family sits on the sidelines waiting for me to say it's ready for the oven because I can barely lift it. For the most part when I cook I never follow a recipe or write anything down, and measuring is done in my hand or by sight, so let's hope for the best. Really you can't go wrong when it comes to making Lasagna. As long as you drain your noddles you won't have a watery mess. - Sharon Carr Billing Specialist
Sauce
If you don't want to be bothered with making your own sauce use your favorite (We like Barilla brand it's good stuff)
Ingredients -
1 105oz can of tomato sauce

4 8oz cans of tomato paste

1 16 oz can of petite tomato's

About a ½ cup of sugar

2 Tbsp Basil

2 Tbsp Italian Seasoning

1 Tbsp Oregano

1 Large onion chopped

4 Fresh garlic cloves chopped

Dash of pepper
Sauté chopped onion and garlic in 2 tablespoons olive oil
Add dry seasonings
While this is cooking add all canned ingredients and sugar in large pot
Once onions and garlic are soft add to tomato mixture
Cook on high heat for about 15 minutes, reduce to simmer for up to 2 hours or till thick.
Lasagna
Ingredients -
2 16oz Mozzarella Cheese

9 slices of provolone cheese

1 box of lasagna noodles cooked and drained.

1 lb Italian sausage

1 lb lean ground beef
Cook in frying pan and transfer to strainer run hot water over meat to rid of extra grease Set aside and let drain
In bowl mix in -
2 large eggs
1 Large container of Ricotta Cheese
1 cup of mozzarella cheese
Now the fun begins - Grab a 13 x 9 cake pan, lasagna dish, or whatever dish you are using. Start with a scoop of sauce on the bottom of pan, layer noodles, cheese mixture, add sauce and sprinkle with Mozzarella cheese. Next add in the next layer of noodles, pour meat and more sauce and layer of noodles. You can keep adding layers to the height of your dish. Top with more sauce and lay provolone slices on top and sprinkle with more Mozzarella cheese. You most likely will have materials left over to make a smaller pan. Just place in a glass dish and freeze for another day.
Oh and by the way: you might of notice that I didn't add salt in this recipe, that's because I never cook with it and never use it. Just wait till you taste the flavors!
Happy cooking!
Submit Your Recipe to Collingtonsocial@gmail.com to be showcased in our "My Favorite Recipes" feature in our monthly newsletter.