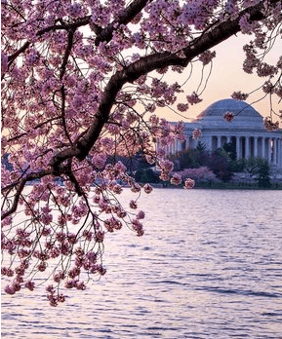 We've finally shaken off the winter blues and warmer days are on the horizon, but spring isn't the only thing in bloom -The National Cherry Blossom Festival is making its way back to Washington DC from March 20 - April 14, 2019.

The festival commemorates the gifting of 3,000 cherry trees from the Mayor of Tokyo to the city of Washington, DC in 1912 and over time it has become the nations greatest celebration of springtime. The two week festival includes a number of events from wine tastings to art galleries. Some of the most popular events include:


The Opening Ceremony

The opening event of the festival begins Saturday March 23rd when Washington DC welcomes world- renowned artists as they take the stage to showcase traditional and contemporary performances in the Warner Theatre to kick off the celebrations.


Blossom Kite Festival

Saturday March 30th welcomes thousands of kites to the National Mall for a spectacle you won't want to miss. The day features professionals and novices alike flying their kites high while participating in a variety of competitions and demonstrations.


Petalpalooza

Petalpalooza, held on April 6th, is when the Wharf's shops and restaurants turn into a one day only springtime spectacle. The event features live music, a beer garden, giveaways and ends the day with a firework spectacular.


National Cherry Blossom Festival Parade

The parade is one of DC's largest spectator events set along Constitution Avenue. The event, taking place on April 13th, features larger than life balloons, floats, bands, and celebrity performers. Tickets can be purchased for Grandstand Seating and wheelchair access is available.
For more information and updates on the Cherry Blossom Festival: