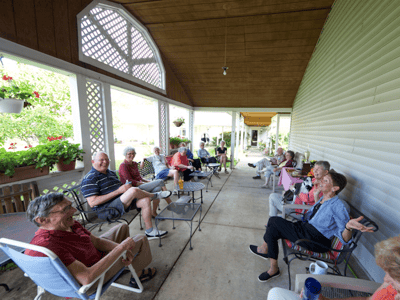 Just like finding your first apartment, house, or neighborhood to raise your kids, where you retire is important. You want to find a place where you will be able to enjoy your golden years. It is important to consider price, location, amenities, and activities among many other things. So, what should you look for when researching retirement communities? And how do you know which retirement community is the right one for you?
When looking for the place you want to spend the next phase of your life, take your own personal needs and situation into consideration. Are you looking for a community that offers multiple levels of care as you age? If so looking at an Independent Living Community like Collington would likely be a great fit. If you are at an older age where you no longer desire to take care of your own space and property, it is important to make that known. You can find a place where you won't have to mow the lawn, take care of cleaning and can be among people in the same phase of life.
Another important consideration is the amenities each community offers. If you are an active individual, it will be important to find a place that offers you options on ways to remain active. Clubs and activities are also important for socialization. The best way to meet people that are similar to you is through doing the things you love. Collington, for example, offers a variety of activities like drama club, woodworking, tennis, lecture series, pickleball, musical performances and more.
Additionally, location will play a big role in where you feel most comfortable retiring. Think about if you prefer the city or the country, or if you want a change of pace from where you've spent most of your life. Do you have children or grandchild you want to be close? How often do you plan to do activities outside of campus and what would you like those activities to be? Look for a community that you not only love on campus, but off campus as well.
Choosing where you plan to spend the next part of your life is a big decision, but also an exciting one. By taking into consideration all the things that are most important to you, you will be sure to find your perfect fit.
What makes Collington Extraordinary? Our Residents!