Helping your parent decide which independent living community is right for them is a big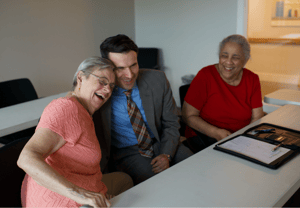 task.
Maybe they already have a pretty good idea of what they're looking for, or maybe they would rather leave the details up to you, either way, there are a few main things to consider when choosing the best future home for your loved one.
Budget: Cost of living is an important thing to consider before choosing which community will be right for your parent. Be sure to have a budget in mind and only pick a community that will be comfortable financially for them. Remember, some amenities and services may cost extra, so consider what is most important to them and what they may not need.
Location: If your parent spent most of their life in the city, they may want to retire in a slower paced and more relaxing location. Discuss if they want to be near a city for outside dining and entertainment, or would prefer a sprawling campus with endless walking trails nestled in the suburbs. In conjunction with the location, styles of homes will differ depending on where the community is. A city campus can be expected to have high rise apartment style homes, but a more open suburban setting may offer cottages and single story homes. See what they prefer that way you can narrow down your options a bit easier.
Social Activities: If your parent is a social butterfly, making sure their community has plenty of clubs and activities will be important for them. Many places have programs to help residents remain active, so look into the list of what is offered that way your parent can make sure there's something that will be of interest to them, and maybe even a few new activities they'd like to try!
Services: Life Plan Communities (formerly known as CCRC's) are becoming increasingly popular among prospective residents. This type of community offers care from independent living all the way to memory care, all on one campus. This environment is ideal for both the resident and their family because it establishes a feeling of safety and security knowing help is at their fingertips, should the person need it. This type of care does come at a cost, so talk with your parent to find out if a LPC may be the right fit for them long term.
To Read the 11 Ways a Life Plan Community Can Improve Your Life: