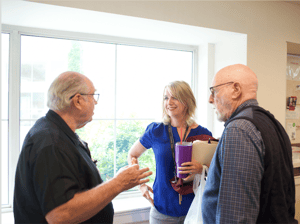 Moving your parent into an assisted living community is an emotional transition for everyone involved. It is a change – and change isn't easy, especially for an older adult who may not want to move. Everyone finds different ways to cope but it will take time, and it is important to be prepared for the struggles that may arise before, during, and after the move. We're sharing our tips on ways you can ease the transition of moving to assisted living for your parent and yourself.
In order to start the transition off on the right foot, start planning and preparing as far in advance as possible. If your parent is selling their home or downsizing, give them and yourself plenty of time to complete the packing process. Allow them time to go through all of their most important items, and to make the difficult decisions regarding what they are willing to part with. Allow them to have a say in what gets kept and what gets tossed. Giving your parent control in this way can help make them feel more at ease throughout what is likely a difficult process for them.
Before their move in date, visit their soon-to-be home as frequently as possible. Let them get acclimated to the area and familiar with the buildings they will be spending the most time in. By doing so you can help make their transition a bit more comfortable by making the community seem less foreign. During these visits spend time meeting staff members and other residents so when your parent moves in, they will recognize a few faces.
Once move in day arrives, give your parent control in how they want to decorate their new place. Bring items from their home that will be comforting to them. Try to find a way to make their new bedroom look like their bedroom from home. Bring books, furniture, photographs or candles to make their new place feel like home. If your parent is open to it, add some new items to their home like a new bedspread, curtains, or a new TV. Adding even one brand new thing can add a touch of excitement about the new adventure they are embarking on. However, be cautious about adding too many new things. Your parent is already having to learn a new environment so you don't want to overwhelm them.
The first days following your parent's move in be sure to check in on them as frequently as you feel is necessary. You know them better than anyone else, so approach the situation how you feel is best for them. For many people, having family members visit can make the transition easier and can provide them a sense of comfort knowing they haven't been forgotten about. However, monitor the amount of time you spend with them. It's great to provide them comfort during a difficult transition, but don't allow yourself to become a crutch. Give them space so they can meet new people and socialize with their new neighbors.
Encourage your loved one to join clubs and activities. They best way for them to get acclimated is for them to participate in group activities and meet other people who enjoy the same things they do. If they seem hesitant to start, try starting an activity together when you go to visit, this will begin to establish a routine for them and eventually they will feel comfortable enough to participate without you being there.
Moving a parent to an assisted living community can be a stressful process for both you and them. By finding small ways to make them feel more at home, it can ease the transition and allow them to enjoy their new place more quickly. Remember to be patient, even if it takes some time, eventually you both will be glad knowing they are safe and well taken care of.
Download Our Free Ebook:
11 Ways a Life Plan Community Can Improve Your Life