Summer is the time for clean, healthy eating now that fruits and vegetables are at their peak harvest. We recommend this delicious clean eating instant pot soup as one of your go to summer recipes by blogger Pinch of Yum.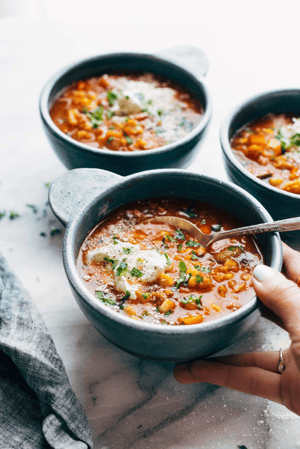 Ingredients:
1 lb. chicken breasts
1 28-ounce can crushed tomatoes
4 carrots, peeled and chopped
2 stalks celery, chopped
3 cloves minced garlic
1/2 cup farro (you can also use brown rice or small pasta)
6 cups chicken broth
2 tablespoons olive oil
1 teaspoon each basil and oregano
1/2 teaspoon each garlic and onion powder
2 teaspoons salt
2 zucchini, cut into small pieces
2-3 cups of fresh sweet corn kernels, cut off the cob
Toppings: Parmesan, lemon juice, plain yogurt, fresh herbs, freshly ground pepper, etc.
Directions:
Place all ingredients (except zucchini and corn) in an Instant Pot or pressure cooker. Set the pressure to high for 20 minutes and then let the steam release. Shred the chicken and then stir in the zucchini and corn. Set the pressure to high this time, cook for an additional 5 minutes, then release the steam. Let the soup cool and thicken. Add salt and pepper and your preferred toppings.
For Full Recipe, Visit Pinch of Yum.
To Read About The Essential Items To Have In Your Pantry To Improve Senior Health: Click Here