Music has been shown to have positive effects on a person's well-being. It can reduce stress and anxiety, help seniors with Alzheimer's and dementia, and can improve their quality of life. These are some of the reasons the Artists in Residence Program at Collington partners with the University of Maryland, School of Music. Now in its sixth year, it is a model of intergenerational living that places two students at Collington to live alongside the residents each year.

Residents regularly listen to the students perform at the community and even partake in making music together. Not only do they enjoy the music, but they enjoy getting to know them on a personal level.

Collington is proud to welcome Myles and Max for the 2022-2023 season! Get to know more about the newest members of the Collington Artists in Residence family and how music has become an integral part of their lives.
Myles Mocarski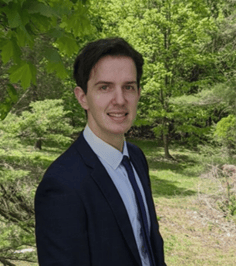 Myles Mocarski has established himself as a versatile and active violinist across the East Coast, frequently performing in the violin sections of the Richmond, Albany, Williamsburg, Baltimore Chamber, Annapolis, Reading, Fairfax, and Eastern Connecticut Symphony Orchestras. He has appeared as concertmaster with the Londontowne Symphony Orchestra, the Anne Arundel Community College Symphony Orchestra, the Torrington Symphony Orchestra, the University of Maryland Symphony Orchestra, the University of Connecticut Symphony Orchestra, and the National Orchestral Institute Philharmonic. A passionate educator, Myles has held teaching positions at universities and music studios across the East Coast. Myles currently holds the position of adjunct professor of violin at Anne Arundel Community College and also serves as an instructor on record at the University of Maryland, College Park. He has taught students of all ages and levels of ability at Harmonic Music Studios, the International School of Music, B&B Music, and the Killingly School of Music. During the spring of 2020,
Myles founded his own virtual teaching studio, where he taught and mentored aspiring violinists from around the world. Myles received a dual degree in music and speech language hearing sciences from the University of Connecticut in 2016, where he was the recipient of a full-tuition scholarship. In addition, he graduated summa cum laude and as an honors scholar. Myles subsequently completed a Master of Music degree in violin performance at the University of Maryland in 2019 where he held an ensemble assistantship. He is currently a Doctor of Musical Arts candidate at the University of Maryland where he holds an ensemble assistantship.
Max Jacobs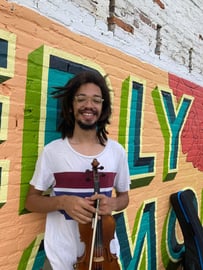 Max Jacobs began learning the violin at the Peabody Preparatory at five years old with Elisabeth Faidley and later, with Louise Hildreth-Grasso. At 13 he began studying with Cameron Raecke and played with the Baltimore Symphony Youth Orchestra until coming to Dickinson College and studying with Prof. Blanka Bednarz. Max attended Young Artists Beethoven Festival in Utah, and performed Sinfonietta Polonia in a series of New Year Concerts 2018-2020, among them at venues such as A. Mickiewicz University Hall in Poznan, Poland as well as in ballets Alice in Wonderland and Snow Queen at the prestigious Opera Nova in Bydgoszcz, Poland. In the summer of 2019 he performed as a soloist with the Vidin Sinfonietta at the International Musicians Academy in Vidin, Bulgaria. He has played in masterclasses with Simon Gollo, Irina Muresanu, and the Newberry Consort. undergraduate degree is in Violin Performance at Dickinson College. Max is currently pursuing a Master of Music degree, also in violin.
The Artists in Residence program is one of the many offerings that contribute to the active lifestyle our residents enjoy. Contact us for more information.