There are a lot of important decisions that go into making the move to a retirement community. One aspect to consider is thinking about the active lifestyle you'd like to have, and what the community offers to achieve this. In this post you will find some of the most common amenities that residents look for, and those that our residents at Collington enjoy most.
Wellness Programs and Activities
Staying healthy is a critical aspect of life, and senior living communities can help you with this. Most communities have amenities focused on fitness and health to supply ample opportunities to take part in a heart-healthy activity.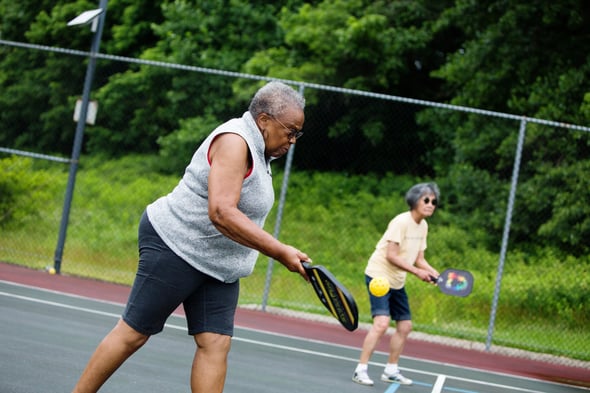 Walking Trails- Some communities will have miles of trails for you to stroll and take in the beauty of the community. This is an easy way to get in your daily steps, while enjoying the sounds and sights of nature all around you. It's a great activity that can be tailored to your ability and needs. Many trails also surround a lake or water features, like you will find here at Collington.

Swimming Pools- Whether it be an indoor or outdoor pool, having a pool in your community is always something you should look for. For those hot days when you want to cool off, or if you enjoy water aerobics classes, you can do that as well! Also, swimming is a great easy exercise to increase your heart rate while not adding a lot of stress to your body.

Pickleball Courts- Pickleball has gained a lot of popularity and can be seen throughout communities. This fun sport provides a good workout and lowers your risk of heart disease. It also promotes socialization with your neighbors and other community residents. This is one sport where you can be competitive and have some fun at the same time!
Dining Spaces and Options
Dining is one of the most important amenities seniors look at when deciding on the right community. With so many food choices and diet restrictions, you want to find one that will be perfect for you.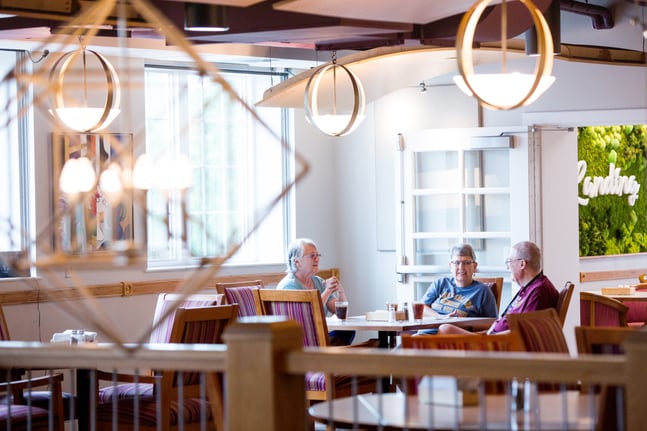 Restaurant-Style Dining- Dining doesn't have to be boring, it can be an experience! Most communities now offer restaurant style to give you the experience of what you would expect outside of the campus. Chef-prepared meals with fellow neighbors in a hospitable setting where you can relax and savor the flavors.

Dietary Restrictions- Many communities have come to expect not all residents' dietary options are the same, and they are prepared to accommodate to fit the needs of all. Chefs carefully plan out meals for those who need low sodium, gluten-free, or even plant-based food. They work hard to cook up recipes that are not only delicious but healthy.

Flexible Dining Hours- Today's dining has shaken up the traditional routine of set hours of when residents can have their meals. Many communities offer flexible hours and grab and go options for residents to come and go as they wish.
Creative Spaces
Hobbies are something that residents enjoy being able to explore when they move to a retirement community. Having the spaces to continue them also makes this an added bonus. Most communities offer different spaces to help you keep up your passion.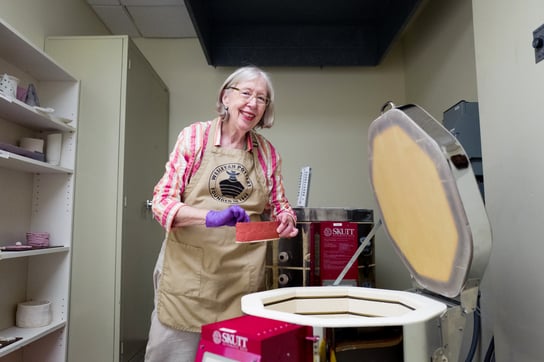 Flower Arranging Studio-When you stop and smell the flowers, it makes you feel good! There's also a lot of benefits of having a space to do this at a community. It's a great way to give your hands and fingers a gentle workout, socialize with other residents and help boost your mood and happiness. Not only will you leave with a beautiful floral arrangement, you may also brighten someone's day.

Art Studio-Creativity comes in many forms and having an art studio can help you to express this. There is usually a space for residents to go and create something. The rooms can be set up for you to paint, create pottery and crafts. There may even be classes available where you can learn how to do something you didn't know before.

Community Gardens-Gardening is also a hobby that is not only fun, but you can reap the benefits of what you grow. Many communities offer residents the opportunity to select a plot where they can plant the seeds of their choice and watch them grow. Fresh fruits and vegetables are the most delicious when grown all by yourself.
These are some of the many options available at today's senior living communities. Knowing what you want in your next community will help you find the right one for you. To learn more about the amenities that Collington offers, contact us or visit our Community Overview page.