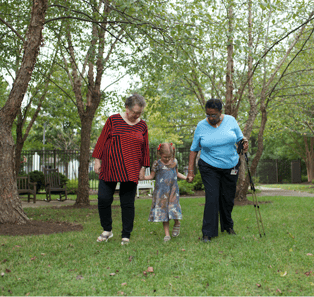 Making the decision between aging in place and moving yourself or your loved one to assisted living can be tough. First and foremost, it is important to distinguish the differences between the two. Home care and assisted living are similar in many ways, but there are a few critical differences that may help make your decision easier.
Home Care
Approximately 75% of adults over the age of 50 say they would like to stay in their home as they age. Home care services have grown quickly over the last few years and have become one of the most requested services in the United States today. Home care services typically consist of:
Personal Care
Companionship
Supervision
Laundry
Light Housekeeping
Meal Preparation
Medication Reminders
Shopping
Errands
Transportation
Home care can work for some people but may not be the best option for others. While it allows for the person to remain in familiar surroundings, it can be stressful to family members who live in the same home and put a strain on the relationships. The person in need of care will not have access to round the clock supervision with this type of service since the nurse will only be in the home for specific hours every day.
Assisted Living
Assisted living is for those individuals who need help with everyday tasks but don't need full-time nursing care. Assisted living homes allow residents to maintain their independence but also ensure their safety. Services provided at assisted living communities include:
Safety and Security
Personal Care/Assistance with Daily Activities
Housekeeping and Laundry services
Meals
Social Activity, Entertainment and Wellness
Transportation
Health Care Services
Visitors are typically welcome any time of day and many assisted living communities even allow pets. In terms of full-time care, assisted living communities are typically the most affordable option. These communities provide opportunities for the individual to socialize in clubs, during meals and on group trips.
Similarities
Both assisted living and home care allow for the individual to maintain their independence and continue the life they want to live. It's a common belief to think moving into an assisted living community will strip a person of their freedom but communities like Collington, pride themselves on helping their residents remain independent and active in their choices. Both options offer assistance with housekeeping, some personal care, meals, medication and transportation.
Differences
The most notable differences between assisted living and home care are hours and socialization. Most often home care is offered during set hours each day. During those hours the individual is supervised, and help is available, however, once the nurse leaves for the day the person is left without help in the event of a medical emergency. In assisted living communities, help is readily available 24/7 which can provide the resident as well as their family members comfort knowing they will have help in the event they need it.
Socialization is a key part of staying healthy as we age. Consistent socialization reduces the likelihood of depression, loneliness and anxiety. It also helps seniors maintain their self-esteem and sense of worth. Assisted living communities offer a variety of clubs, teams, activities, and events where residents can socialize, make friends and interact with others. For those who choose to age in place, this can often be a big issue. If the person lives alone, sometimes their only interaction can be with their nurse who is only around for a few hours each day. The lack of transportation or difficulty getting around can cause the person to feel isolated which can lead to depression.
Spend time going over what you or your loved one needs in terms of care and what is most important to them. Aside from needs, focus on environment, socialization, cost and location. Different living arrangements work best for different people so it is important to consider the options in order to find the perfect fit.
To Learn about Collington's Assisted Living Options: Request Our Brochure