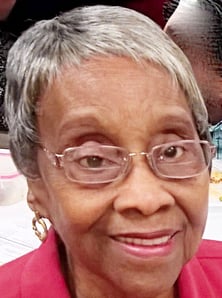 In honor of Black History Month, I spoke with Reverend Rhoda Nixon, an accomplished writer, a proud member of a now international sorority, and resident at senior living community, Collington, a Kendal Affiliate. Reverend Nixon spoke of her ancestors in such an incredible way- highlighting their strengths through difficult times. Her grandparents were slaves and experienced a horrific cruelty; however, they were determined to succeed in their lives and still gave back to their community and the people surrounding them. Reverend Nixon was determined to learn more about her family history and continues to share this story with the world in her book, "Two Worlds: The Captives and the Enslaved."
First, Reverend Nixon gave background information about her family. She started by saying family always meant a lot to her, and that's what made her curious about her roots. She was born in North Carolina in the same area where her grandparents worked as slaves, so she felt a kinship to her grandparents. Her grandparents worked on a plantation for a well to-do family, and her grandfather also fought in the civil war. After emancipation, her grandparents continued to work for the plantation but eventually moved to Washington D.C. and started their very own hand-washing laundry business. They had eight children to take care of, so it was important that they worked hard in order to support their family. From their success, they were able to give each of their children a down payment on their first house. Reverend Nixon's family was also heavily involved in the Baptist church movement, helping establish one of the first Baptist churches in Washington D.C. called New Bethel Baptist Church, which is still around today. Reverend Nixon also emphasized how her family would take people into their home to help them achieve their goals, showing that they wanted to give back to their community as much as possible.
Although both grandparents passed away before Reverend Nixon was born, she shares something special with her grandmother: her first name. Reverend Rhoda Nixon feels a special connection with her grandmother, as if she is carrying out her legacy and honoring her life. Since most records for slaves were destroyed, Reverend Nixon faced challenges as she searched for more information about her family. Eventually, she discovered more and more as time went on, from letters from the slave owners to working with a genealogist. Although her journey was difficult, her drive to learn her family's history kept her going.
Reverend Rhoda Nixon said her ancestors' stories helped her to be who she is today. Their strength and spirit lives on, and Reverend Nixon embodies those qualities in her own journey. Reverend Nixon's family taught her many things, but one thing that her family taught her is that you have to have goals in your life and things you want to accomplish. She passes this along to others in her life, especially in her work. She elaborated by saying God has given each of us a gift and that gift relates to your role in the world. We have to identify what God's plan is and carry that out.
Reverend Rhoda Nixon is an inspiring person and has accomplished so much throughout her life. By sharing her ancestors' stories and her own experiences, she creates a learning opportunity for everyone. Don't forget to check out her book, and keep an eye out for future publications by Reverend Rhoda Nixon!