Choosing the right senior living community to call home is an important decision. Although it is difficult to put a price on outstanding care, cost can be a big concern for many families. Here are 9 financial strategies to ease your mind when searching for senior living communities.
1) Review Your Assets With A Senior Living Financial Planner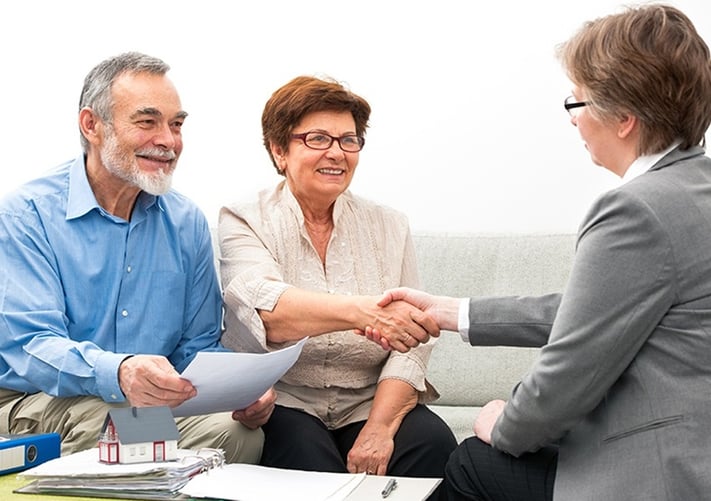 Are you spending all your income on necessities...only to have little left over for other expenses? Well, it turns out that you are in the same boat as many other soon-to-be retirees. During the process, you may realize...
Your money is too spread out and have too many accounts

You may be paying unnecessary taxes and fees on your investments

You may be taking more risks than you are comfortable with
2) Repurpose your Life Insurance Policy

If you or your loved one has an existing life insurance policy, you may be able to convert your policy into an account to help finance the cost of adult living communities. Called a Life Settlement, you may be able to sell your policy for an amount greater than the cash surrender value. You can convert a universal, whole, term or group policy and use it for assisted living, dementia care, skilled nursing, hospice or private-duty home health. http://www.lifecarefunding.com/
3) Bridge The Gap

The need for an adult living community can be unexpected and sudden due to medical emergencies or the realization that living at home is no longer safe. Essentially taking out a loan to take care of your parents in retirement is "Bridging the Gap".
Most families use this as a short-term bridge to selling a home or other benefits.

Most of the loans were paid back in a year or less.

In 2010, bridge loans for CCRCs were introduced.

Up to six family members can cosign, but by doing so, they become liable.
http://www.nytimes.com/2010/11/05/business/businessspecial5/05LAST.html
4) Reverse The Flow

There are some significant advantages to this type of loan. Reverse mortgages let homeowners stay in their own home while also tapping into the equity they've built up over the years. Reverse mortgages do not affect Medicare or Social Security benefits. There are no credit score or income requirements.

Negatives…
Reverse mortgages can be expensive; fees are higher than a conventional mortgage, and closing costs run from 2 - 8% of the loan amount.

Securing a reverse mortgage is a big decision, so it's important to talk to a financial advisor or an elder law attorney who can help you and your family weigh the pros and cons.

5) Timing

"The best time to buy is just as the local high season is ending. In southern states, that's usually May and June, when the weather gets steamier and the tourist stream slows to a trickle. Buyers gain negotiating power as sellers become nervous about the lull. Like the pricing but not quite ready to retire? Consider buying the home and renting to another retiree." Prime time to buy in the Washington DC and Maryland suburbs is the end of fall.
https://www.forbes.com/sites/vanessagrout/2014/01/03/12-rules-to-embrace-before-buying-into-a-retirement-community/#548ea2ba4db4
6) Veterans Administration's Aid and Attendance Program

Veterans and their surviving spouses may be eligible for Veterans Aid and Attendance, a benefit that can help with a portion of some senior independent living costs. If you've served in any branch of the service during wartime, have a need for physical assistance and qualify in terms of income and assets, you may be eligible for a monthly benefit to put toward independent senior living or assisted living expenses. It could make a huge difference in your quality of life, and, if approved for this benefit, it becomes retroactive to the date you physically moved into a senior living community.
Contact the V.A. regional office where the veteran filed a claim for a V.A. pension or the survivor filed a claim for V.A. Death Pension.
https://www.caring.com/articles/va-aid-and-attendance-housebound-benefits
7) Factor In Local Taxes

Some states are more retirement friendly than others. Factor in local tax rates. Income, property and estate taxes are crucial considerations, as well, when choosing a location in which to invest.
Find the perfect fit that suits you. For instance, complying with residency requirements in Florida, Wyoming or Texas can create great income-tax advantages, but property taxes are relatively high. Maryland exempts some types of retirement income, including Social Security, from state income taxes but fully taxes others, such as income from an IRA or 401(k). Maryland is one of just two states that has both an estate and an inheritance tax.
https://smartasset.com/retirement/maryland-retirement-taxes
8) Medicaid

Maryland Medicaid will pay for assisted living under the Community Options Waiver (formerly the Waiver for Older Adults).
The following link breaks down medicaid and assisted living coverages by state.
https://www.payingforseniorcare.com/medicaid-waivers/assisted-living.html#title2
9) Be Realistic When Managing Your Retirement Withdrawals

Understandably so, constructing your nest egg is critical to live comfortably in retirement, but managing your money in senior living communities is about making it last as long as you need it to. Factors that need attention are...unexpected expenses such as medical bills, the potential of outliving your money, uncertainty in the financial markets and inflation. Therefore, you should plan to have your money last at least 20 to 30 years in retirement.

Be aware that many individuals have unrealistic expectations about how much to withdraw during retirement. It is important to have good discipline during the first years of retirement, particularly to start off on the right foot and not raid your nest egg too quickly.

Senior Living CAN BE AFFORDABLE. At Collington, A Kendal Affiliate, call Terri at 301-925-7703 to help you decide what programs may be most suitable and beneficial for you...

For more information on any of these programs, please click the link below...
https://www.fidelity.com/viewpoints/retirement/managing-cash-flow
http://www.myretirementpaycheck.org/Savings-Investments/Managing-Expenses
https://money.usnews.com/money/blogs/on-retirement/2015/02/17/5-tools-to-manage-your-money-in-retirement
https://www.retirement-living.com/fitting-long-term-care-into-your-budget/