You've looked forward to retirement since you first entered the workforce, but now that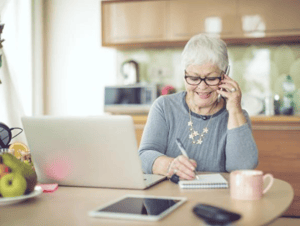 you're retired, you're ready to go back to work. This is a common occurrence for many people, maybe you're bored, maybe you could use the extra income and benefits, or maybe you want to keep yourself active. Regardless of the reason there are plenty of jobs that are perfect for those who are ready to reenter the workforce after retirement.
Freelancing is a great option for those who want to work for themselves and make their own schedule. The best part about freelancing is you can find work in almost any field from teaching to photography, and you have the freedom to only take jobs you want when you want to work.
Taking a job as a pet sitter could possibly be one of the most fun jobs out there. See if family or friends need someone to watch their pet while away on vacation, start your own business or work for a company that provides animal care. Pet sitting could also help you stay active by going for walks and spending time outside!
For those who are social butterflies, sales could be the perfect fit for you. There are plenty of options to work in retail like being a cashier, product promoter or supervisor. Additionally, it is common for people in this field to work part time if you don't want to commit to working 40 hours a week.
Driver jobs have become increasingly popular especially among those of retirement age. With companies like Lyft and Uber, becoming a driver is easier than ever. If you don't want to drive your own car, are there are plenty of other options like being a bus driver, taxi driver or chauffeur.
If you are looking to make a difference, consider working in childcare. Although the salary can sometimes be on the lower end, many people feel a sense of fulfillment helping children learn and grow which makes the job worth it. Also, working with children is sure to keep you active mentally and physically which is just another added benefit.
Ever dream of being a writer? Retirement is the perfect time to achieve that dream while also making a small career of it. Write a book, freelance, or start a blog, there are endless opportunities for those that want to work as a writer even without a degree.
Reentering the workforce after retirement gives you the chance to have a job you always wanted, or to become your own boss. Don't be afraid to get back out there, the opportunities are endless!
To Read about some fun hobbies to do with your new found free time: Click Here