If you're just starting your search to find the perfect assisted living community, you may be uncertain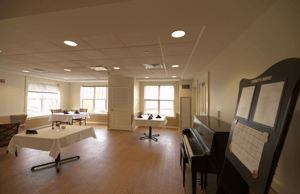 about what exactly an assisted living is. Some people hear assisted living and immediately think "nursing home" or loss of their independence, when in reality, assisted living is neither of those things! At Collington, we offer our residents the best care, a variety of activities, and a stunning campus just outside of Washington D.C., but here are a few additional aspects of assisted that you may not know about.
Assisted Living is not the same as a Nursing Home
At Collington, our assisted living community is tailored to each individual's specific needs. We focus on helping residents maintain as much independence as possible. Our residents have their own private suite in a neighborhood type of environment as opposed to nursing homes, where residents typically share a room. Assisted living communities are structured for individuals who require assistance with day to day tasks. On the other hand, nursing homes are for individuals who require constant care and around the clock monitoring.
Assisted Living has different levels of care
Our residents have the option to choose between The Brandywine and The Potomac, depending on the level of care they require. The Brandywine is for residents who require some assistance with day-to-day tasks. The Potomac is available for residents who require some extra assistance.
Not all communities are the same
Every assisted living community has its own personality, it's up to you to find the one that fits your needs. Some communities are made up of tall apartment buildings in the middle of a city, and others are spread out across a few acres in the country. Spend time researching what is important to you, see what activities, off campus entertainment, and dining options are available.
Assisted living offers accommodations for those needing memory care
At Collington, we offer an additional neighborhood in our assisted living community called The Arbor. The Arbor offers a complete range of Alzheimer's and dementia care programming and services designed to meet the needs of both the residents and their families. The neighborhood provides a safe and secure environment that helps residents reach their highest potential while preserving each individual's dignity.
For More Information about the different living options at Collington...
Download Our Free Ebook
11 Ways a Life Plan Community Can Improve Your Life